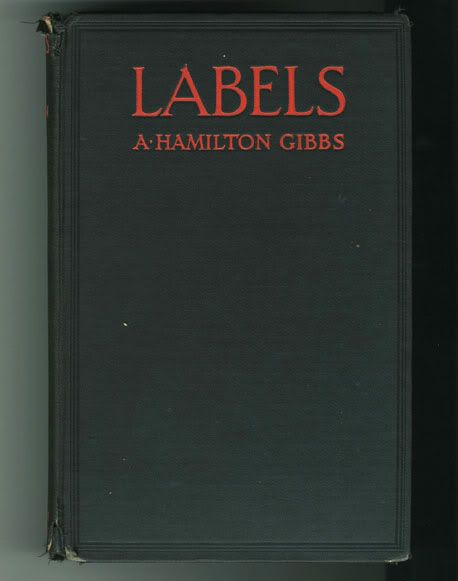 Back when I was a reporter at the Arkansas Democrat-Gazette, one of my happiest days was when the older reporters brought me in on a little secret. Over the decades, clerks at the newspaper had compiled a list of all of the most bizarre, preposterous names to appear in the paper.
A few examples: Monkietron Ward, Mary Screws, Diaretha Nelson, Duford Lafoon, Atomic Junebug Hill.
These are real, verified names. And there are thousands of them. When I left the paper, I was sure to print out the list and take it with me.
I always wanted to do something with the list, but I never knew exactly what. Until last summer I went out to Utah with my dad to go fossil-hunting. In the little town of Moab, we popped into a bookstore. They had a row of old hardcovers that had had their pages stripped out, replaced with blank journal pages. One caught my eye. It had a black cover, and the title, in red all-caps, was "LABELS."
I went through and wrote down a name on each page. At last year's Heroes Con, I started passing the book around to artist friends and asking them to  draw each name the way they imagine the person might look. It took off in a way I couldn't imagine, and eventually I started to have people go out of their way to ask me if they could contribute. This was a relief, given my reservations about sketches.
At the Atlanta Comic Con in December, I happened to meet June Brigman, longtime artist of the Brenda Starr comic. She was kind enough to add to the sketchbook. Her contribution? Velvet Couch.
By coincidence, it was that very week that the Brenda Starr strip was retired. Through Facebook, I happened to come across this post on Politics Daily by Suzi Parker.
Suzi worked at the Democrat-Gazette before I did and has gone onto a career as an author and freelancer. I posted a comment on Facebook, letting Suzi know the coincidence about me having just met June and getting the sketch.
Suzi mentioned that she knew about the list from her time at the newspaper. I told her that June had drawn a version of Velvet Couch. Suzi then commented that she had written the obituary for one Velvet Couch several years ago.
It was that obit that led to Velvet's name being on the list!
Times like these, the world feels very, very small. Thanks to June for the sketch! Expect to see more from LABELS in the future.
Now, here's Velvet Couch: