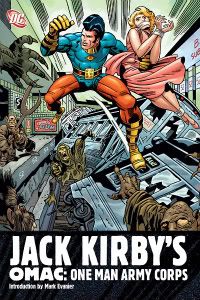 A couple years ago, while reviewing one of Jack Kirby's DC books, I mentioned how, on the credits page, Kirby listed himself as artist, writer and editor. My understanding is that, when Kirby left Marvel for DC, he was given carte blanche over his books.
And what I noticed almost immediately about Kirby's DC books — particularly OMAC and the Fourth World stories — was how scattered they were. Ideas and characters careened around, never collecting into something substantive. For all Kirby's ambition, those projects didn't fully bring across the story in his head.
Recently, I started working on a graphic novel with an artist who previously worked for Marvel, including a stint as Kirby's editor. I finished a draft of the script and sent it along, thinking I had come up with quite a story. A couple weeks later, the artist sent a lengthy e-mail that, scene by scene, tore my story apart.
After putting aside the instinctual urge to be offended, I realized the artist had taken my draft and done exactly what a good editor does: He raised questions where ideas weren't clear, pointed out weaknesses in story structure and suggested ways to strengthen the narrative and reinforce the theme. He took the scattered mess of ideas I had offered and gave me a roadmap to turning them into something substantive.
Of late people in the comics community have talked about the role of editors, and it's a good discussion to have. The topic was brought up by Hope Larson here, then continued by Scott McCloud here and Calista Brill here.
I come from a slightly different background, having started as a writer in newspapers. Editing in that setting — at least before staffs were cut to bare bones — meant every story would be ripped apart multiple times. In the newsroom, you need thick skin as a writer.
My first great editor was Dave Diehl, the sports editor of the Daily Nebraskan, my college newspaper, when I was a freshman. I hated Dave. He had nothing but bad things to say about my articles for the first year I worked there. I tried again and again, but nothing impressed him. Until, finally, something did. And, with a little perspective, I understood that all those battles had forced me to strive for better writing, clearer thinking, stronger reporting. If it hadn't been for Dave, I likely wouldn't be working as a writer today.
Over the years since, I've had a mix of good and bad editors, but each of them challenged me, and that's the key to editing. Creating a story or article is an incredibly insular task, particularly when it's a piece of fiction. The story exists inside your thoughts, and through words you give it release.
But because of your familiarity with the material, it's impossible to see it as your audience will see it — with fresh eyes. If there's a gap in the story, you could easily miss it, because your mind already knows what fills that gap.
From what I've seen, the role of editor isn't consistently valued in comics, which is a shame. Editors can be far more than word junkies who correct typos and lasso wayward punctuation. If only Jack Kirby realized as much.