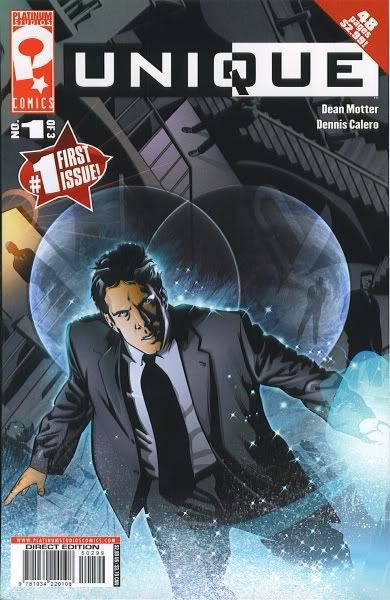 Last year, I wrote a couple articles for Publishers Weekly on the financial situation of comics publisher Platinum Studios. At the time, the company had run up about $14 million in debt and was accused of not paying creator DJ Coffman.
I haven't disclosed this before, but when I contacted Platinum's PR person for information on a third follow-up article, instead of hearing from him, I received an e-mail from Platinum's lawyers, threatening to sue me. I quote:
…you have, in the past, written an article on Platinum in which you attempted to discredit the Company by making statements about the Company's financial status which we believe to be uninformed and baseless. Please accept this letter as formal notice that Platinum will not tolerate any further attempts by you to publish false and/or misleading information about the Company. If you insist on publishing false statements and misinformation, Platinum will not hesitate to pursue any and all available avenues to address your actions. Such actions may include, but are not limited to, the filing of a lawsuit against you and any publishers of your articles for defamation.
For the record, I have no stake in Platinum's financial status and was merely reporting on a story that was assigned to me. All information in the article came directly from Platinum's own Securities and Exchange Commission filings.
On that note, then, let's take a look at Platinum's just-released 10-K Annual Report. And to make sure I'm not making false statements or spreading misinformation, I'll just quote from the report directly.
If you want to read the whole thing for yourself, you can find it right here.
Here's probably what will be of most interest:
The Company has incurred significant losses which have resulted in an accumulated deficit of $20,710,078 as of December 31, 2008.
The operating loss for the year was $10.7 million (see page 49, or balance sheet at bottom of the post), up from $4.6 million in 2007.
Net revenue for the year ended December 31, 2008 was $822,488 compared to $1,956,054 for the year ended December 31, 2007. The decreased net revenue was primarily attributable to a decrease in option fee and film licensing revenues.
The Wowio acquisition of course contributed much of the debt increase, but it's interesting to note that Platinum took an impairment against the goodwill of Wowio as an asset (page 29), though it sees a brighter future ahead for the property. This means, according to Investopedia, that the fair (appraised) value of the property is less than the carrying value, which typically means the amount it was acquired for.
With the reduction in online advertising and a negative EBITDA [earnings before interest, taxes, depreciation and amortization -- VJ] for the entity on its own, the Company took the most conservative approach to the impairment issue by reducing the amount of goodwill, effectively reducing the value of the asset to zero. The Company believes that the WOWIO asset will add intangible value to the balance sheet once revenue generation resumes with an increased effort in marketing, business development and sales efforts.
The net revenue for Wowio last year was $195,913 (see page 63), compared to $2.1 million the previous year. While that does show Wowio's earnings potential, the company also had a $5.6 million operating loss in 2007, which grew to $11.8 million in 2008.
They're behind in rent:
Our offices … consist of approximately 12,400 square feet. We entered into a five year lease for our offices which requires payments of $31,857 per month or minimum annual payments of $127,429 in 2006, $387,383 in 2007, $402,878 in 2008, $418,993 in 2009, $435,753 in 2010 and $298,147 in 2011. Our lease expires on August 31, 2011. We are currently in arrears in our rent but the landlord has been willing in the past to work with the Company to enter into a payment plan that allows the Company to bring payments up to date while remaining in our space; however there can be no guarantee that the landlord will continue to allow the Company to work out a payment plan.
They're facing lawsuits:
Michael Tierney v. Platinum. A former employee of the Company has filed a suit against the Company claiming, among other things, wrongful termination, fraudulent inducement, defamation, violation of California Labor Code. No specific damages have been pleaded. The complaint has not yet been served on the Company. This former employee was terminated for cause as a result of grossly negligent/intentional misrepresentation of contractual relations with third parties in marketing materials. The misrepresentations caused the company to lose a potential deal with a particularly well-known comics website. The Company believes this case is without merit and intends to vigorously defend these claims, if and when actually served with the complaint.

Transcontinental Printing v. Platinum. The Company has received several demand letters from Transcontinental Printing, the most recent of which from a law firm, demanding payment for an outstanding invoice in the amount $111,567.85. The company has tried to enter into some settlement with this vendor but to no avail as of yet. The company will continue to aggressively pursue a settlement with this vendor to try and avoid a lawsuit. The Company has not yet turned this over to outside counsel.

Harrison Kordestani v. Platinum. Harrison Kordestani was a principal of Arclight Films, with whom the Company had entered into a film slate agreement. One of the properties that had been subject to the slate agreement was "Dead of Night." Arclight fired Mr. Kordestani and subsequently released Dead of Night from the slate agreement. In late January 2009, Mr. Krodestani had an attorney contact the Company as well as its new partners who were on the verge of closing the financing for the "Dead of Night." Mr. Kordestani, through his counsel, claimed he was entitled to reimbursement for certain monies invested in the film while it had been subject to the Arclight slate agreement. Mr. Krodestani's cliam was wholly without merit and an attempt to force an unwarranted settlement because he knew we were about to close a deal. We responded immediately through outside counsel and asserted that he was engaging in extortion and the company would pursue him vigorously if he continued to try and interfere with our deal. The company has not heard anything further from Mr. Kordestani but will vigorously defend any suit that Mr. Kordestani attempts to bring.

Doubleclick, Inc. v. Platinum. On February 19, 2009, a lawsuit was filed by Doubleclick, Inc. against the Company in the Supreme Court of the State of New York. The claim is basically a breach of contract claim. The contract at issue was a three-year agreement to provide ad serving services, requiring a minimum $3,500/month payment with no termination clause. The employee who executed the agreement without having counsel review it is no longer with the Company. Between February and June 2008, the Company attempted to negotiate an "out" without luck. The service was far too expensive and the Company could no longer afford it and stopped using it around June/July 2008. Doubleclick is seeking approximately $118,000, plus interest and late fees for the balance of the contract. The Company has engaged outside counsel, Jeffrey Reina with the law firm of LIPSITZ GREEN SCIME CAMBRIA LLP in Buffalo, NY to handle this matter. The Company intends to answer the complaint and then aggressively pursue a settlement with Doubleclick

Paul Franz v. WOWIO, LLC and Platinum. WOWIO and the Company have received a demand letter from counsel for Paul Franz, a former consultant to WOWIO, asserting that WOWIO had breached is payment obligations under a consulting agreement Counsel for Franz has indicated they intend to file suit to recover the full amount under the consulting agreement. The Company recognizes there may be some risk on this case and is aggressively going to attempt to resolve this matter. The potential exposure in this matter is close to the amount demanded, however efforts will be made to settle for only a portion of those monies. We are not currently a party to, nor is any of our property currently the subject of, any pending legal proceeding that will have a material adverse effect on our business. None of our directors, officers or affiliates is involved in a proceeding adverse to our business or has a material interest adverse to our business.
They're having financial reporting problems:
As of December 31, 2008, we did not maintain effective controls over the following items: (i) timely and routine process for reconciling certain accounts to the general ledger; (ii) detailed documentation and analysis to support equity transactions; (iii) proper application of stock compensation expense and incomplete record keeping related to stock option grants; (iv) timely and comprehensive analysis of impairment of intangible assets.

As a result of the material weaknesses described above, our management concluded that as of December 31, 2008, we did not maintain effective internal control over financial reporting.

In response to the identified material weaknesses the Company established formal processes and procedures including a review conducted by the Company's senior executives to ensure appropriate documentation and analyses for all equity transactions.
Platinum had a couple nice developments early this year:
On Feb. 4, Sony Pictures Animation announced a deal with the Company to develop an animated feature, it was announced by Bob Osher, president of Sony Pictures Digital Productions and Hannah Minghella, president of production for Sony Pictures Animation.

On Feb. 26, 2009 the Company and Hyde Park Entertainment commenced production on "DEAD OF NIGHT". This film is based on the best-selling Italian comic book series, 'Dylan Dog', created by Tiziano Sclavi and published by Italy's Sergio Bonelli Editore. The comic book series has sold more than 56 million units worldwide and has been translated into 17 languages since its debut in 1986. Principal photography is taking place in New Orleans, Louisiana.