From time to time I post about basketball hereabouts because, well, I love basketball and this is my Web site. For once, here's a basketball post that actually kinda sorta relates to comics.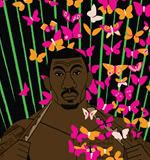 As the NBA has had something of a resurgence in recent years, with the quality of ball improving substantially and the fun factor (thank you, Gilbert Arenas) increasing exponentially, there has been a simultaneous surge in basketball blogs. In fact, the culture of basketball and comic book blogs are eerily similar, but that's a whole other thing.
The point is that the coolest basketball blog out there is Freedarko, a self-called collective that offers intellectual (and pseudo-intellectual) paeans to the game. And now these fellows have a book, The Macrophenomenal Pro Basketball Almanac, which tells the story of basketball with the usual witty writing and some beautiful illustrations, such as the one seen above.
You can see more previews right here.
The guys of Freedarko were nice enough to send over a copy, and it's a gorgeous book that somehow manages to feed my dueling loves of basketball and comics. It's cryptic, bizarre, enlightening and more fun than it has any right to be.
It'll be interesting to see if comic bloggers could try something similar, taking their idiosyncratic world (like the ISB, perhaps) and rolling it out into something much larger. Hmmm…
You can also see an explanation of the Freedarko book's "Periodic Table of NBA Style" in this slide show at Slate.com.