Before handing out the inaugural Graphic Fiction's Graphic Novel of the Year Award, I should say that this was nothing short of a great year for the art form. Nearly a dozen books earned serious consideration for the award, a diverse assortment of excellence in comics.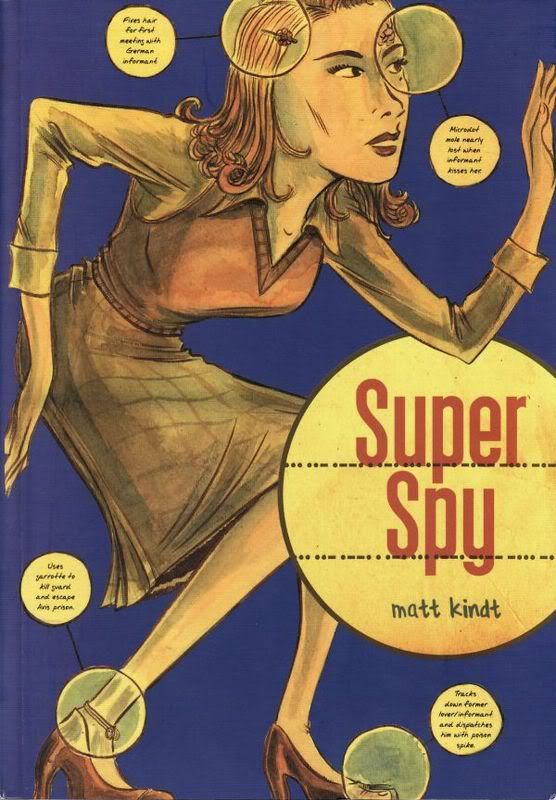 But only one book can win, and this year the honor goes to Super Spy by Matt Kindt. Simply put, no other book showed the combination of artistic genius and narrative savvy of this mesmerizing tome. Published by Top Shelf, the massive book (at well over 300 pages) seems at first to be a loose collection of stories from the world of espionage during World War 2. But as the book rolls along, the vignettes grow and interweave, each serving as a small vine, part of a great messy field of kudzu.
Kindt portrays the world of spies not as the glamorous frivolity of James Bond, but just as dark and gritty and ugly as trench warfare. The saddening stories build to an emotional whole, as each piece interrelates, allowing Kindt to reveal all perspectives of the war, how pain leaves no soul untouched. The scope of the project is awe inspiring.
As good as the story is, the art may be even better. Though quite similar to the expressively simplistic and monochromatic work of Nick Bertozzi, Kindt shows a far greater range both in art and design. Every story has a different style, fitted perfectly to its mood.
The ideal graphic novel is a true marriage of story and art, and Kindt builds each upon the other into one of the very best graphic novels ever created.
In the running: Cairo, I Killed Adolf Hitler, Scott Pilgrim Gets It Together, The Salon, Exit Wounds, Sentences: The Life of MF Grimm, Notes for a War Story, Garage Band, House, The PLAIN Janes, Tales from the Farm, Silverfish.