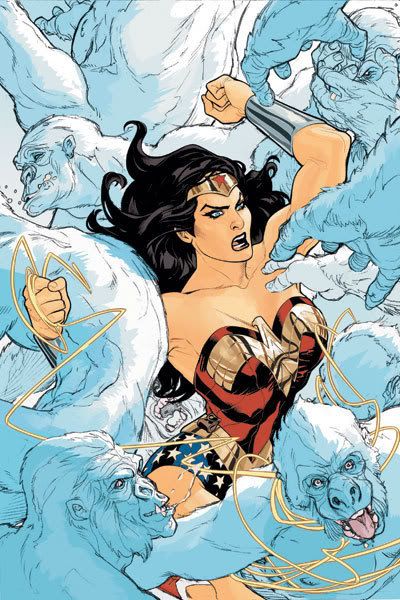 The stakes are high on this one.
With tomorrow's release of Wonder Woman #14, Gail Simone's run on the character she seems destined to write begins. Since that pairing was announced more than a year ago, fans of both the character and the writer have been clamoring.
Building up her fan base through Villains United and Birds of Prey, Simone became the most visible female comics creator. Meanwhile, Wonder Woman languished after Infinite Crisis, her One Year Later relaunch moving in fits and starts thanks to unfinished effort from Allan Heinberg and a poor rookie comics showing from novelist Jodie Picoult.
With Simone jumping in for a fresh start, what's perhaps most surprising about her first issue is how smoothly she weaves it into the ongoing storyline. Diana Prince became a secret government agent (under a false identity), and instead of jettisoning that angle, Simone builds off it. More than in the past 13 issues combined, she puts Diana in a tough place as a superhero-in-disguise-as-a-regular-person.
At the same time, it's eminently clear that big changes are in store. The book actually starts on Themyscira, and quickly Simone lays the groundwork for what's to come. Hippolyta visits three imprisoned Amazons, asking each to repent for their crimes. The last one confronts Hippolyta about a deep, dark secret. Something involving Diana. After spending the middle of the issue exploring Wonder Woman in her new life, Simone returns to Themyscira, where big, nasty changes are about to come forth. Genie out of the bottle sort of stuff, if the genie's a bad guy.
 What's so smart about this approach is the possibilities it opens to redefine Wonder Woman's background. That's always been a murky area of DC continuity, and even now I'm not sure which of her myriad beginnings is canon. Simone is not so much returning Wonder Woman to her roots, but bringing the roots back to Wonder Woman. For the first time in a long time, it's made the character worth following.
 That said, I expect this issue to disappoint more than a few, if only because expectations are so high. Because Simone continues the old storyline and the art team of Terry and Rachel Dodson stick around (which I'm glad to see), the series doesn't feel like it's made a big change. And Simone doesn't pull out the big guns right away (there is a fight with gorillas and ensuing gorilla-related jokes, but it just comes across as fanboy pandering). Instead, she's laying a foundation.
That can be a bit slow, but it's a smart approach if this pairing is to have longevity and success.