Yesterday I brought you a preview of the new graphic novel Cairo by G. Willow Wilson. The book is set in Cairo, where Wilson has lived off and on as a journalist. She's a fascinating person, having grown up in the United States, then converted to Islam while studying history and Arabic language and literature while at Boston University. She has contributed to some of the most significant newspapers and magazines around the world, usually writing on Islamic and interfaith issues, which not coincidentally is also at the heart of Cairo.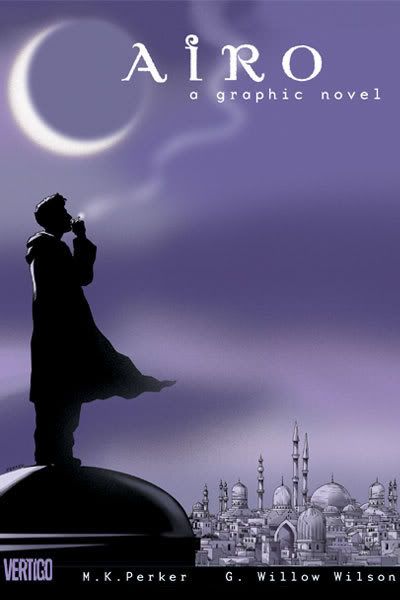 The love of comics started as she was growing up reading X-Men, and later she became more interested in Vertigo books (even once building a shrine to Neil Gaiman). Now, her own book has been published by Vertigo.
Willow recently made time for an interview about her new book and the city that inspired it.
VAN: First, it almost seems surprising that, as one of the most populous cities in the world, Cairo isn't very well known to many in the west and the US more specifically. What was it that made you interested in Cairo originally? Why did you move there? What makes the city so important?
WILLOW: My involvement with the city was a coincidence, ironically — I knew I wanted to spend time in the Middle East after I graduated from college, and I happened to get a job offer in Egypt. When I visited Cairo to check it out and decide whether I wanted to accept the job, I was immediately hooked. It was unlike anywhere else I'd ever been. Like many Americans, I wasn't aware of the significance of the city before that point.
I think that lack of awareness has a lot to do with the "behind the scenes" role Egypt tends to play in the politics of the Middle East — the government often mediates between the more highly publicized regional hot-spots. So Cairo rarely makes the news, even though it's constantly creating the news. Today the city plays host to thousands of refugees, expats and politicians-in-exile from across the Middle East and Africa, including, significantly, Iraq. With the ongoing chaos in Baghdad and Beirut, Cairo is the last great city in the region, and the feeling of being part of the final bastion of a culture is almost tangible in the streets.
VAN: When did this story start to form in your thoughts? How did it develop?
WILLOW: The story came to me almost like an epiphany — not the nuts and bolts, but the overarching idea. I think I had been in Cairo for two days when it happened. There was something about the place that begged to be the setting for a graphic novel. So I sat down and started writing, and twenty-two pages later I looked up and found I had the genesis of a book.
VAN: Every day we see news about the so called battle of cultures, which is usually referred to as east against west or Muslims against Christians. I was surprised (pleasantly) that you eschewed that angle, really not bringing Christianity into the storyline. Was that a conscious decision, or did it just not fit in the story as it came together?
WILLOW: You know, this idea of "Christianity vs. Islam" is so inapplicable to everyday life in Cairo that it never even occurred to me to factor it in. The conflict between two slightly different ideas — Islam and the West — rears its ugly head occasionally, but it's rarely if ever seen as a clash between religions. It's seen more as a clash between the religious and the irreligious. There are Christians in Egypt who are every bit as ascetic as the most conservative Muslim, and their opinion of Christians in the West is less than sunny. So it breaks down in a different way than the way we typically conceive of the conflict in the West.
VAN: This book comes across as almost a Hellboy-esque blend of mythology and action/adventure. How did you come across these tales (did you stumble onto some, seek them out?) and how did you weave them together? Were there any stories you had to leave out?
WILLOW: I'm very flattered by the Hellboy comparison! That's a great book.
A lot of the mythological elements in Cairo came from conversations with my husband, who has a lively appreciation for the history and legends of his culture. One or two of the stories are quite literally true. Some of the images I use are traditional elements of Islam's rich relationship with symbols and symbolism.
There are tons of stories I wanted to use that I had to leave out due to page constraints — were it not for the wise intervention of the editors, this thing would have been a few hundred pages long, which is massive for a graphic novel.
VAN: You call Cairo a very strange place. What was the most bizarre thing that happened to you there?
WILLOW: My God, the strangeness never ended. Something slightly weird seemed to happen almost every day — the entire time I was there, I never quite got a sense of normalcy. One of the most persistently odd — but wonderful — elements was a kind of communal telepathy. For some reason, people there often know what you're about to say or what you need or want before you open your mouth.
I remember once I went to see my husband's band perform at a theatre in Old Cairo, and as I watched them setting up I thought "The air is so dusty, I could really use a cough drop." Literally a moment later, one of the technicians came up and offered me a lozenge. That kind of thing happened on a fairly regular basis. I think it's the result of living in a tightly-knit community — you become much more sensitive to the people around you. I call Cairo a village of 17 million — it doesn't feel like a huge metropolis.
VAN: While this story comes across as a wild adventure, it struck me that it must be a very personal story for you. Some of the characters, Kate and Ali especially, seemed to be in a way telling of your experiences. Is that an accurate assessment?
WILLOW: You've hit it on the head. Kate and Ali are probably the characters closest to (my) real life, although Ashraf and Tova are also loosely based on real people.
VAN: At the center of the story is the box (that contains the word "east"), the element that pulls all the characters together. Is that based on a myth, or story? (I had my interpretation, but I wanted your thoughts.)
WILLOW: It's not based on a "real" myth, no. I like to take ideological baggage and turn it into literal baggage — that's essentially what the box is.
VAN: Ultimately, Cairo is a very hopeful book. The message doesn't seem to be so much of reconciliation, but of finding common ground. Do you feel such commonality and peace can be found not just in the Middle East, but in the world?
WILLOW: Again, exactly right — not  reconciliation, but common ground. Maybe reconciliation one day, but that day is far off. Common ground exists right now. I think it can and will be found in the Middle East and the world at large — and peace? Not in this climate, but there are people working very hard to bring a climate about in which it can exist.
Ali alludes to that at one point in the story. Common ground is something that I think is foolish to look for between cultures but exists in abundance between individuals — that's something each character in the story discovers in some form or other.
VAN: Many thanks to Willow for the interview.